Since beginning my composition journey with Darren Bloom at 16, my pieces have very often been influenced by other art forms. Whether it's transfusing Bulgarian choral music with solo clarinet for Dessi, setting Kanye West lyrics for gospel and classical double choir with The Glory, or interpreting the textures of a Clyfford Still painting, I love to cross pollinate for inspiration.
If you'd like to perform one of my pieces or commission me for a new project, please click 'get in touch' at the bottom of the screen.
– Joe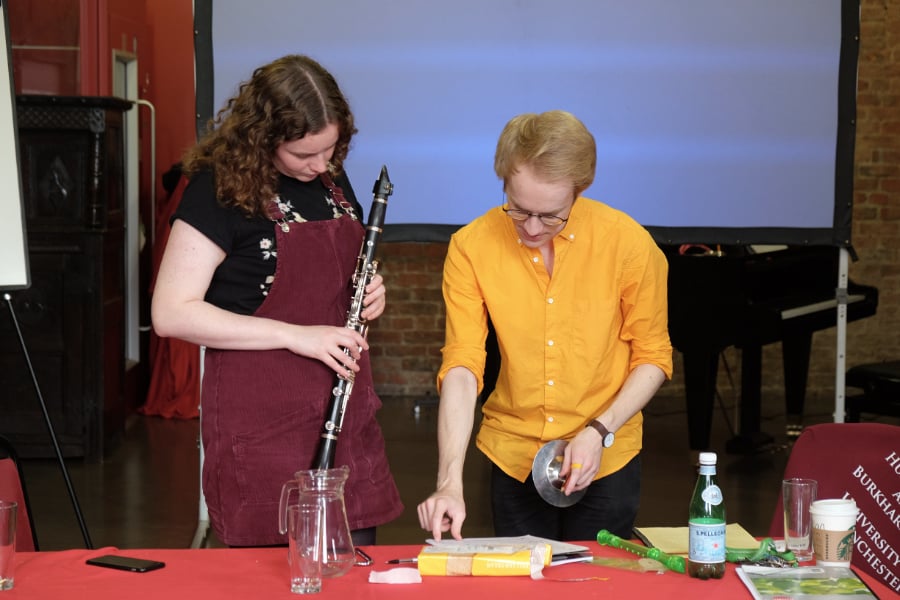 A piece of combined sound design and composition work with words by Amina Atiq. This was my successful entry to BBC's Sound First scheme, run by BBC Radio 3 and BBC Contains Strong Language. The music anticipates, reflects and emphasises Amina's words, creating a space for them to shine. It's my first 'sound design' piece but I really enjoyed making it. My work for No Dice Collective – editing the podcast and conducting music and poetry pieces – really came in handy for this project.
This piece is inspired by Bulgarian choral music. The first section is an invented core melody. The second section plays the melody off against a drone, mixing the drones heard in choirs, and the skittish showy style of wedding music played on clarinet. The melody then splits further into broken chords for a return to the original sombre mood in the third section. This is more reminiscent of the harmonic style originating from the Soviet era that we still associate Bulgarian choral music with today.
Transferring the aural tradition of choral music to notated music proved quite a challenge and as part of my solution to this, the performer is given a lot of scope for interpretation. Hopefully this will lead to a wide range of performances, reminiscent of the variety Bulgarian folk songs enjoy.
Composed with clarinetist Dov Goldberg as part of Psappha's Composing for Eastern European Instruments scheme 2018/2019.
Profit film score (2018)​
For No Dice Collective's Last Christmas project, I collaborated with film maker Riley Bramley-Dymond to score a brand new film: Profit. The score fuses string quartet and electronics, culminating in an overwhelming SOHPIE-inspired climax.
A young artist is given a pay cheque and a drug habit, and left to contend with the vices and demons of celebrity. Over the course of a surreal and seemingly endless photoshoot, his life and career slips steadily into chaos.
The film has been screened at Film Hub North and BFI NETWORK's Northern Exposure event in March 2019, and featured in the Manchester Preview Festival (2020).
" @hollyherndon i loved* this creative response to your @MIFestival Dark Matter show by @harnthal + @joecm_music. "
Mary Anne Hobbs
join my club is an audiovisual piece which considers the disabled body's journey into the club in response to Holly Herndon's performance in the MIF Dark Matter series (curated by Mary Anne Hobbs for MIF 2017).
It follows a progression from preparing to go out, through conflicting anxiety and enthusiasm, to a place of liberation and (imagined) movement. It reflects on ideas of posthumanism, looking at the struggles the body faces and how life might be with increasingly computerised experiences, themes which Herndon also includes in her pieces.
Created by Hannah Ross and Joe Chesterman-March as part of MIF's creative50 talent development programme.
Inspired by Clyfford Still's eponymous painting, PH-1123 depicts the vast, abstract vista of Still's work. I used the same horizontal proportions to reflect this spaciousness and, being an abstract painting, filled these sections with my own impression of the canvas.
Ironically, Still used his title to avoid any associations; however, the weight of association on my own title needn't restrict the listener to a game of connections as the piece inevitably becomes a work of its own for interpretation.
Seed Studios facilitating 1-1 songwriting/production sessions and engineering for Seed Studios x Vonnegut Collective electroacoustic project 2018
China Plates and Pearl Earrings (theatre) 2018
The Glory for gospel choir and chamber choir 2017
Creative workshop leader at Forest School Music and Art Summer School 2016
Found sounds workshop leader at Forest School Music and Art Summer School 2015
Workshops at Wigmore Hall, with Judith Weir at RCM, with Anna Meredith at BBC Maida Vale Studios
" @hollyherndon i loved* this creative response to your @MIFestival Dark Matter show by @harnthal + @joecm_music. "
Mary Anne Hobbs